A well-thought-out and innovative event can leave a lasting impression on your guests. To get an edge on competitors, impress your colleagues, or simply create a lasting impact, O'Brien Icehouse offers a range of private function rooms and events.
These prices are redeemable ONLY when a booking is made at least TWO WEEKS in advance.
Full payment is required 4 business days prior to the booking date.
Please Note: due to capacity, On-Ice Corporate Bookings are CLOSED until February 2024. Meeting Room spaces still available for bookings.
BRING YOUR FUNCTION TO LIFE AT O'BRIEN ICEHOUSE
Melbourne's premier ice skating venue, O'Brien Icehouse, offers a unique private function experience with views of two Olympic sized ice rinks and a variety of on-ice activities available. The world-class facilities at O'Brien Icehouse plays host to the most unique corporate functions Melbourne has to offer and your guests are guaranteed to be talking for weeks.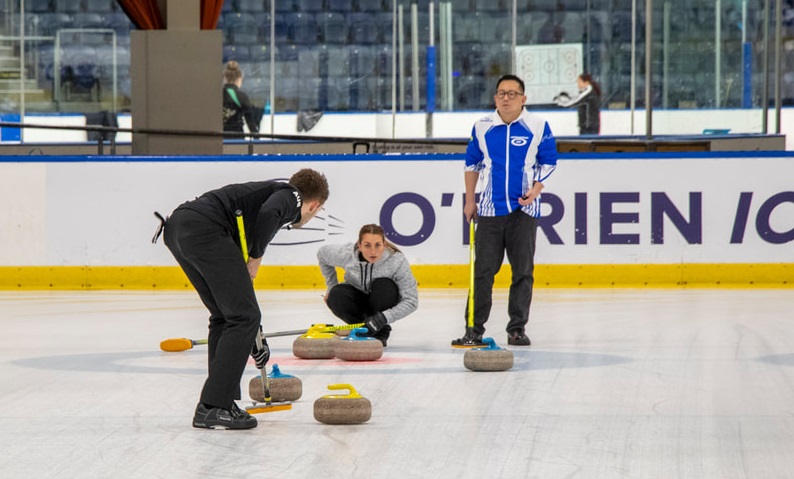 O'Brien Icehouse is the premium venue for a unique off-site meeting or team function!
We offer complete tailored delegate day packages to meet your budget and work requirements, including private spaces for conferencing and breakout meetings as well as hosting staff to assist in your daily itinerary.
Our world class coaches are here to break up your day with our unreal on-ice team building activities. Finish your day out of the office beyond the ice with drinks and canapes in our private bar, overlooking our Olympic sized rinks!
O'Brien Icehouse offers a variety of fun on-ice and off- ice activities!
ICE SKATING
With our team of experienced instructors we can take your guests through an introductory lesson and then let you test out your ice-legs on your own with a few hours of free-style skating. Whether it's their first time since childhood or a brand new experience, it will be sure to be not just an exhilarating experience but a memorable one.
CURLING
Sliding large rocks on ice is much harder than it looks, yet this low-impact game of patience, precision and broomsticks is perfect for an afternoon of team building and relaxed enjoyment.
ICE HOCKEY
Introduce your guests to the fastest game on earth and see what they're really made of. A one hour lesson including basic skating and safety skills will get you started, then watch the time glide by as you slip and slide your way to some great stories for the office.
VIP GAME DAY EXPERIENCE
If you'd rather you and your guests remain as warm and dry as possible, we can set you up right against the glass and offer a premium VIP viewing of a game. Watch the players slam against the boards and send flying pucks in every direction while your guests enjoy three hours of canapés and drinks.
Regardless of group size or dietary requirements, our corporate packages can make sure you and your guests are sustained with delicious and healthy food and drinks for the entirety of your time at O'Brien Icehouse.
We can work with you to provide a range of vegetarian, non-vegetarian, hot, cold, simple finger food, gourmet canapés or more substantial meals.
Or for the fast and epicurious, our snack menu will get you tea, coffee, fruit, savouries and other no-fuss pleasers while you're on the go.
From the corporate suites to on-ice activities to catering, we have the expertise and the resources to make sure your Christmas party, family day or any other event is an unforgettable success.
Our team of experienced event planners will work with you to tailor a package to suit your needs and ensure attention to detail and professionalism throughout your event.