If you're looking for a memorable party experience, Melbourne's O'Brien Icehouse has got you covered. O'Brien Icehouse is one of the coolest kids birthday party venues Melbourne has to offer, providing a dedicated party host who will take care of everything for you from start to finish!
O'Brien Icehouse Terms and Conditions 
Frequently Asked Questions (click the plus button to see information)
How can I book in?
All birthday party bookings are completed through our website. To book & customise a birthday party – CLICK HERE
Please note full payment is required when booking.
Bookings open 2 months in advance and close 2 weeks prior to the booking date.
Is there a minimum required number of guests?
We do not have a minimum number of guests, but we do have a minimum spend of $380.  If you do not have enough guests to over this cost, you can order extras (such as balloons, platters for adults, personalised birthday cakes) to make up the price!
How do I get the birthday invitations?
Once the birthday party is booked in, your PDF invitations will be attached to your confirmation for you to use!
Why do we charge a cake fee? What does 'cakeage' cover?
A cake fee is a service that quite a few industries provide.  This fee is normally charged at $2 per person, with some places reaching $5-$7 per person!  Here at the O'Brien Icehouse we like to be upfront and by charging one $20 fee, this ends up being a lot cheaper than a per person fee. We will provide plates, cutlery, a knife, a lighter and (if needed) candles, and your host will cut and serve the cake to everyone.  We can also store your cake in the fridge or freezer, if needed.  Please note that if you choose to order of one our amazing cakes, this fee will not apply.
Can I bring my own food?
The Icehouse does not permit outside food into the venue due to our health and safety standards and the allergen risks associated, (with the exception of your birthday cake and lolly bags).  In the case of severe allergies, please contact our team directly.
Can I bring decorations?
Definitely!  However, we cannot guarantee that your party room will be available to access prior to your party start time.
Do I need adult supervision on the ice?


We recommend 1 adult per 5 children who are 8 years old or under to assist the little ones and join in the fun!  Parents hosting the party can take advantage of free entry (up to 2 passes) with skate hire. 

Any additional guests coming along to your party are invited to join our public skating session with a special 10% discount!  These can be purchased from our front reception on the day.

Can I get a refund for any no-shows on the day?
Unfortunately, we are unable to offer refunds – however we can provide return passes for another time!
What should the guests wear?
We recommend all guests wear warm, comfortable clothing that's easy to move in.  Dress warmly but layer up!  While it's cold on the ice, once you start moving it can be quite a workout!  Don't forget long socks and gloves are always a good idea!
What time should I tell my guests to arrive?


Everyone should aim to arrive approximately 10 minutes before the start of the party, to make sure everyone is ready to meet their host at your meeting point on time

.
Cancellations & Rescheduling
Please see our Terms & Conditions below
O'Brien Icehouse Terms and Conditions 
A MAGICAL EXPERIENCE FOR ALL!
Our Birthday Parties run for 2-hours and are hosted by one of O'Brien Icehouse's highly experienced Party Hosts. We take care of everything for you!
As soon as the party starts, you can take a step back and really enjoy a wonderful birthday experience that'll be treasured forever. Our Hosts will get your guests fitted with skates and helmets, provide a group lesson to help them feel comfortable and confident on the ice and serve your party food and cake!
Parents hosting the party are welcome to join in by taking advantage of free skating (up to 2 passes), a little gift to say thank you! Any additional adults coming along to your party are invited to join in the skating with a special 10% discount. We recommend 1 adult per 5 children, 8yrs & under, to assist the little ones and join in on the fun!
O'Brien Icehouse provides catering options for parents attending the party with our specially made food platters, available when booking.
O'Brien Icehouse is one of the most memorable party experiences in Melbourne and we can't wait to host your next special birthday!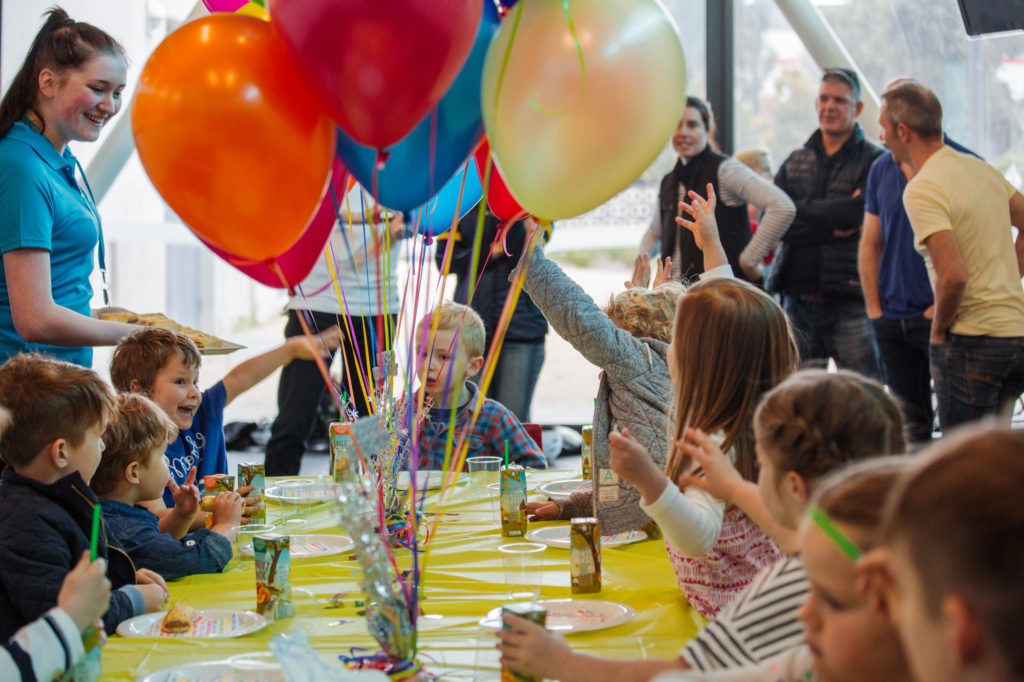 KIDS AND TEENS PARTIES
While a cold reception is rarely a good thing, ice skating at our world-class arena is a fun, healthy, magical experience that every child is guaranteed to love whether they've skated before or not. Our experienced, friendly team will take the stress out of your day, handling every last detail so you can sit back with a piping-hot drink and have a wonderful time!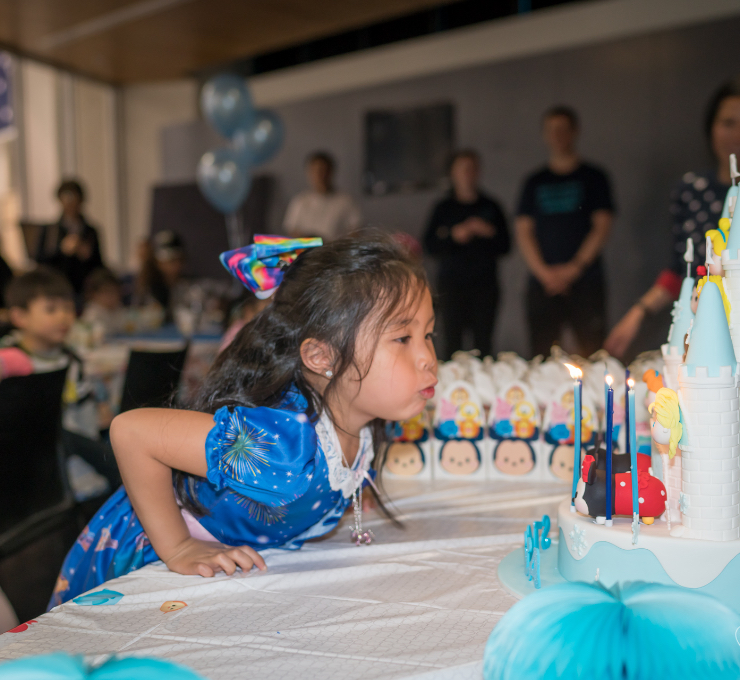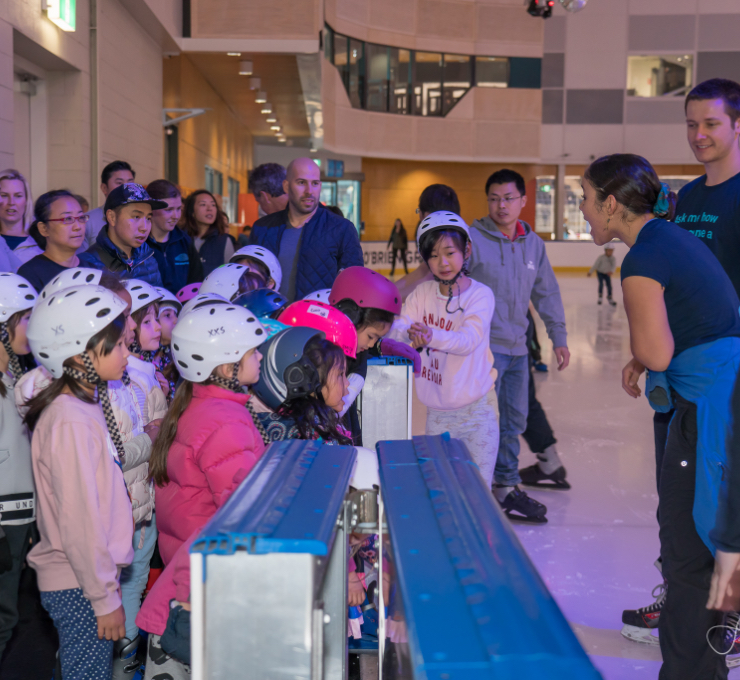 PACKAGE AND INCLUSIONS
Pricing
Our amazing party packages start at $38 per child, prices vary depending on the selected menu option – for more detailed pricing
information, please see the Birthday Party Information Pack.
$380 is the minimum spend required for every Birthday Party Booking. If the number of children attending does not reach this value, add-ons and extras can be included to bring your total spend to the required minimum.
Skates & Helmets
Skates and helmets are included in your booking. The party will have approx. 1 fun-filled hour of skating during the party – but it gets better! After your 2-hour party is over, you can continue skating for as long as you like!
Party Host
Your party will be hosted by your very own party host! Your host will fit all guests for skates and helmets, followed by a learn-to-skate lesson, helping them find their balance and gain confidence.
Party Room
For the duration of your 2-hour party you'll have your very own private party room, this means you'll have somewhere safe to store your things and somewhere warm to rest your feet when you're taking a break from the ice.
Food and Drinks
After everyone has worked up an appetite from all that skating, your host will serve your food package in your party room. Any platters or extra food items will also be served at this time.
Excellent rinks, fantastic facility and the staff are so friendly and professional, my children and I skate at the rink all the time, we are always made to feel welcome and it is a great way to spend the day.
Glenn (Facebook review)