GET YOUR SKATES ON!
Congratulations and welcome! You've taken the first step towards getting off the sidelines and on to the ice!
This page is just for you. It'll tell you all you need to know to enjoy your first outing on the rink.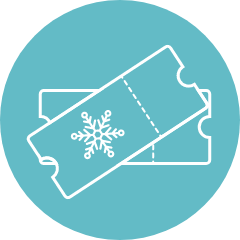 tickets
Tickets to any events or recreational skating can be booked online. Beat the queues and print your ticket before you arrive.
Please see our calendar and events for opening and closing times and themed events.
WHAT TO WEAR
It's always a cool 16°C at the IceHouse, but you will warm up after you've done a few laps, so we recommend you wear a few layers. The most important items are:
Beanie to keep your head warm
Gloves to keep your hands warm
Long, thick socks to make your skates
nice and comfy
We also have lockers for hire to keep your valuables safe while you skate.
helmets
These are available free of charge (with skating admission) and are recommended for all beginners.
The extra protection will make you feel more confident – you'll be gliding around the rink in no time!
We have sizes ranging from XXS to XXL. If you have very small children please bring your own helmet, as XXS may still be too big.
Excellent rinks, fantastic facility and the staff are so friendly and professional, my children and I skate at the rink all the time, we are always made to feel welcome and it is a great way to spend the day.
Glenn (Facebook review)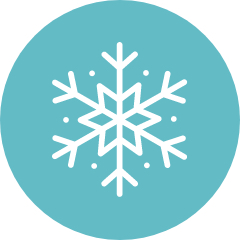 Skate Aids
Skate aids can't be pre-booked and are hired on a first-come basis, but we'll do our best to make sure you don't wait too long if there aren't any available.
Zimmer Frame, for the ice
A skate aid (similar to a zimmer frame but for having fun instead of walking) is a great way to build your confidence and get comfortable on the ice and in your skates.
Price: $4 for 60 minutes.
Plastic Seal
Unfortunately these aren't real seals (though they are suited to this climate). These comfortable and bright plastic seats are for parents, to push their kids around on the ice.
Price: $7 for 60 minutes
Note that helmets must be worn whilst using the skate aids.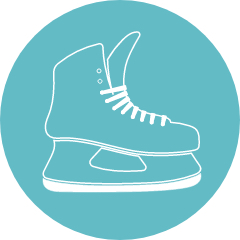 Skate Hire
Speak to our friendly Skate Hire team to assist in fitting your skates!
Sizes range from a toddlers 7 to a men's US 14.