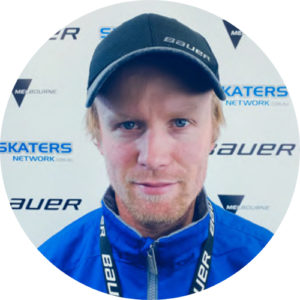 Coach Tom has been coaching at the Icehouse Hockey Academy since 2012 and is a certified IIHF level 2 coach.
Tom started playing when he was 7, represented Victoria from the age of 13 and winning the Presidents Trophy (13 under), Tange Trophy (16 under) and Brown (20 under) for Victoria.
Tom then travelled overseas to Colorado where he played on teams such as Vail Avalanche Bantam AAA, Colorado Outlaws Midget Minor AAA. Tom now finds himself playing for Melbourne
Ice since 2003 where he has won 4 Goodall Cups and was named Melbourne Ice MVP 2018 & 2019, 1 AIHL MVP – he was a 3 x AIHL All Star, playing for the Australian Ice Hockey Junior Team – 3 times.
Australian Men's National Team – 9 times and was captain of the recent 2019 Mighty Roo's. Tom also coached the Melbourne Ice women to 3 straight Joan McKowen Champions – 2014, 15 & 16. You can also find him as the bench boss for the Melbourne Red Wolves IHV.